Happy Monday y'all!
I don't know about y'all but my weekend went by
WAY
too fast!
Friday night we had supper at Olive Garden with friends, spent pretty much the whole day Saturday in Savannah, and then got up and went to Sunday school, church, out to lunch with friends, then to the grocery store on Sunday. I just need one more day to rest!
After this busy weekend, I was thinking about how I'm going to be busy for the next few weeks.
Here's a little preview...
...The after school program at school starts tomorrow. It will be every Tuesday and Thursday until 4:30 for 8 weeks. I know I will be exhausted on those days but the extra money will be nice and helping these little kindergarteners with their ABCs and 123s will be rewarding!...
...Our school is having a reading night after school tomorrow night until 7:00 and I have to be there. I know I will be super tired after having after school but at least I know I'll sleep good!...
...Friday my parents are coming into town! They haven't visited in a long time and we're super excited to see them :)...
...J and I were asked to speak at our church's morning services this coming up Sunday. Our preacher has been doing a series called New Beginnings this month and he asked J and I to share our testimony about joining our church. Even though I get really nervous speaking in front of people, I know that God will be standing there beside us!...
...In two weeks, our Sunday school class is having a baby shower for a couple in class. My sister-in-law is hosting it and it should be a lot of fun :)...
...We finally get a break the weekend of February 18. We have that Friday and Monday off which is fine with me :)...
...That Saturday I'll be helping with my college sorority's state day where all the ZTA chapters in the state of Georgia will come to our town to have a full day of sisterhood!...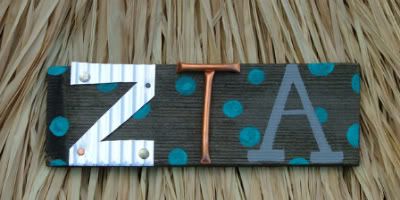 ...Georgia Southern baseball also starts that weekend! We love going to the games and cheering on the Eagles!...
I get tired just typing out all that we'll be doing in the next month! But I know we'll be having fun :)
Hope everyone had a wonderful weekend and has a marvelous Monday!