Happy Monday y'all!
It's a b-e-a-utiful day in Georgia and it's also my first day of spring break :)
No big plans...just a week of relaxing, cleaning, working out, staying up late, and sleeping in.
Here's our menu for the week...
Monday
Olive Garden
OG opened a couple of weeks ago in our town and has been packed every day. Hopefully we won't have to wait long!
Tuesday
hot dogs/turkey dogs
chips
We have some leftover hot dogs from last week so J is going to have those. Since I don't eat hot dogs, I'll be having turkey dogs. We're also having these Cape Code chips with them...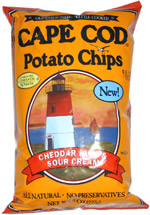 Cheddar and sour cream chips = yumminess!
Wednesday
chicken
creamed corn
green beans
An oldie but goodie around our house.
Thursday
pork chops
rice
peas
We haven't had pork chops in a looong time and J does such a good job grilling them :)
Friday
We aren't sure about Friday yet. J's parents may be coming into town so we might go out this night.
Well, I'm off to check some things off my to do list!
Hope y'all have a marvelous Monday!