The quote "Look back but do not stare" is something my mama says.
One of her patients even embroidered it on a pillow for her :)
It means that when you look back on some things (mainly the bad things), do not dwell on them but rather move ahead.
While a lot of people are saying that 2009 was not the best year for them, I, on the other hand, found that 2009 was a great year! So I don't mind looking back and staring :)
Getting married to my best friend made 2009 a wonderful year!
Here's a little recap of my year. A little rewind of 2009 if you will :)
January
With only 4 months to go until our wedding, we changed our reception venue.
We went from this not so lovely hunting plantation...
...to my aunt's gorgeous backyard!
This was where I always wanted my wedding...overlooking her pond, under a white tent, with lots of natural arrangements.
February
I feel like February just flew by! I wrote my
first blog post
post this month and sporadically posted until about August or September and since then I've been trying to post every day :)
March
J and I took a couple of our friends up to my family's mountain house in March. It was pretty chilly and foggy the whole time but we had a great time anyway!
I also had my church shower in my hometown.
April
April was a super busy month for us! I had my bachelorette party, another shower, J celebrated his 27th birthday, we headed to Nashville to see Dave Matthews, and there was only one more month until wedding day!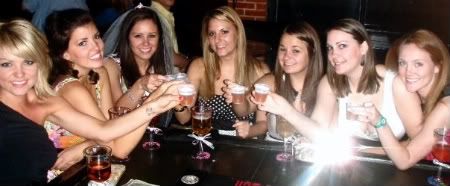 My friend Jessica and I had a joint shower at our sorority house. We had a great time with friends, opening gifts, and playing games!
May
May finally arrived! We spent the month of May getting ready for our May 30th wedding. After worrying and worrying about rain for our outside reception, the day turned out perfect. I wish I could do it all over again!
June
June was spent
honeymooning
, house hunting, finishing up grad school, and being a bridesmaid in one of my best friend's weddings.
July
We finally closed our our perfect first home! We spent July packing, moving, and painting, celebrating the 4th of July at the lake (the eventful day that J's wedding band was whisked away by waves! Yes...very sad time!) and another friend's wedding.
Our little house :)
We painted pretty much every room in the house...with the help of mama and daddy!
(Little Daisy doesn't seem to be much help though :) )
I believe this was before the tragedy of the lost ring!
August
I had spent all summer applying for teaching jobs but nobody in our area was hiring :( So I continued to substitute while also making our new little house our home!
My mom gave me the home sign and the picture was our souvenir from our honeymoon :)
We also went to a Nascar race with J's family for his dad's birthday.
Although I had fun with the fam and getting to go down on the track, this pretty much summed up my Nascar experience...
September
September began college football season. I felt that we had something to do every weekend until December. That was okay...but I sure did get worn out!
Yes...I know I wore the same dress twice but it was just so cute to only wear to one game!
It was
still
football season and we
traveled
to see our team play...and lose :(
The leaves were just gorgeous!
November
I began long term subbing in a wild and crazy 1st grade class.
December
December is always one of my favorite months. My aunt and I celebrated our
birthdays
together, we took some family pictures, and celebrated
our first Christmas
as husband and wife in our first home!
So that was my 2009 rewind!
I hope everyone has had a wonderful year full of blessings and will have another great year in 2010!
We're being wild and crazy and ringing in the new year at home with the fam :)
Happy New Year!
(Oh....and I'll be calling this year two thousand ten not twenty ten...just sayin'!)